Cars
Like a lot of boys that grew up in the '50s and '60s I grew up interested in cars and mechanical things. Although my father passed away when I was seven years old, I had a very good role model, friend, and surrogate in an neighbor, Ray. Ray and I would work on projects and they'd always be guaranteed to be fixed, until they broke. If they broke, we tackled them again.
Ray didn't have much of a formal education but I learned a lot more from him than I did from most of my teachers. He certainly was one of the smartest people I've ever had the privilege of knowing.
My first car was a 1951 Chevrolet 4 door sedan, the "Deluxe" model, IIRC. Since it had an automatic transmission, the first PowerGlide (also knows as PowerSlide, or "mashed potato drive") it had the "big" 235 cubic inch 6 cylinder engine. It didn't help much. Funds were always pretty tight so this was a utility vehicle and the Chevy didn't get modified very much. It died (reverse servo in the transmission) the day before I graduated from high school.
A couple of vehicles later I purchased my first new car, a 1963 Pontiac Catalina Convertible, the color was Aquamarine with an Aqua top. Definitely the prettiest car I've ever owned. It's also the only car that I'd like to have back, if I could have it in like new condition. It had the standard 389 cubic inch V-8 but only a 2 barrel carburetor and a single exhaust system. It moved along but wasn't really a performance car by any means. Back in those days I kept my car clean and the white floor mats were always WHITE! Here's a picture I recently found on the web of a very similar car: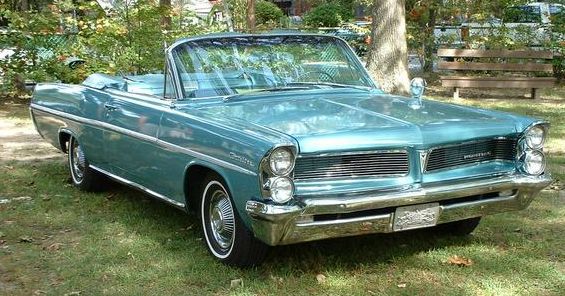 When I was in the Navy I wanted a car but didn't think I could afford to feed the Pontiac so I bought a 1966 Volvo 122S, 4 door sedan (I wanted a 2 door but one wasn't available when I went to buy it; 4 doors turned out to be much more practical, anyway).Here's a photo of a very similar car: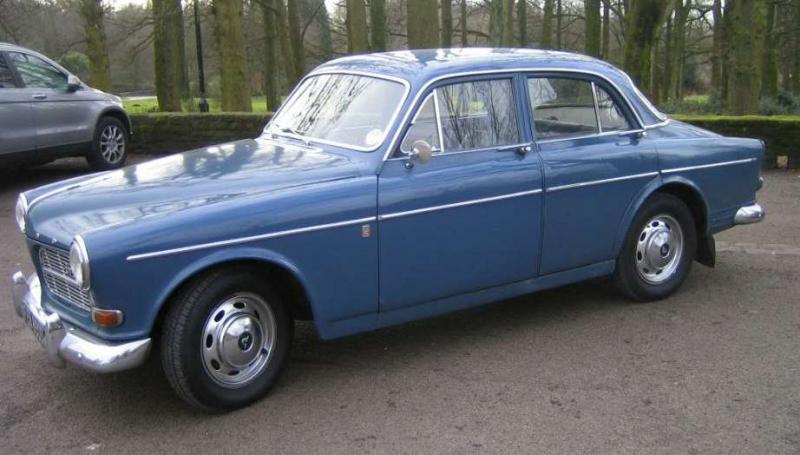 I owned a Volvo when it was an economy car! I kept that car until it had about 99,900 miles and needed a new clutch (its first). By then we were married and my next vehicle was a 1972 Ambassador station wagon; actually a pretty comfortable car. It looked like this one:

Since the Volvo I've tended to look at cars as vehicles to get me from point A to point B in reasonable comfort rather than speed vehicles or tools for self expression.
Fast forward a couple of decades, or so, and I got a 1995 Chevy Blazer which we purchased out of a lease. I liked, and still do like, that vehicle but find that it isn't as comfortable on long trips as I'd like. Here's a very similar vehicle: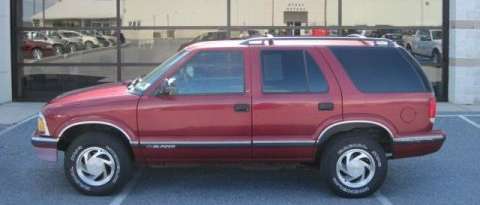 After driving about 250 miles in the Blazer I'd feel like I need a day to recover so we acquired my current "daily driver," a 2001 Honda Odyssey EX minivan. I reasoned that I'd be much more willing to take the long trips that I'd like to take if I had a more comfortable "road car." The Ody fits the bill. Since purchasing the Ody I found an Odyssey owners' forum on the 'net, OdyClub.com. I've been quite active there on the forums, which I've dubbed "the friendliest place on the Internet." Unfortunately (for me, anyway) OdyClub has become so popular, especially since the introduction of the 2005 Odyssey, that I find it difficult to keep up with all the active threads like I used to. This Odyssey photo is a pretty good representatin, although mine has fog lights.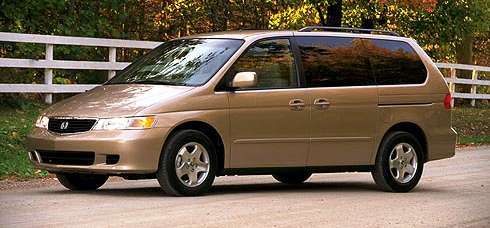 Through the influence of OdyClub members and some personal ingenuity I've installed quite a few modifications to my Ody. Most are fairly simple but they improve on an already fine vehicle. I authored a fairly popular document detailing my experience installing an aftermarket automatic transmission fluid (ATF) cooler which has been useful to quite a few others.
By 2010 the Blazer had become our "Clunker." So it was surrendered, with a few tears, for a 2010 Subaru Outback, like this one: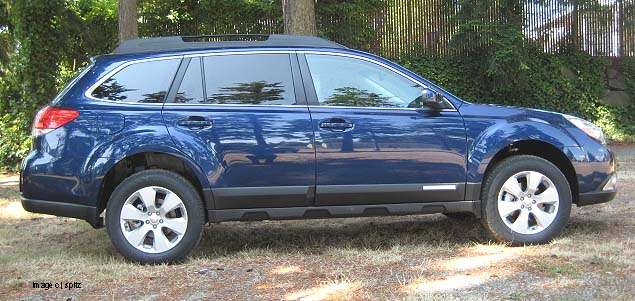 Surprizingly, the Outback is a pretty comfortable road car, and a lot easier than the Odyssey on gas. We've taken a number of trips with it.